The Wheatley School
Class Of 1963
Welcome, Wheatley '63 Wildcats, Hipcats and Housecats. Yours is the 35,721th visit.
Thanks to those who have responded to this inquiry regarding our 55th annual reunion.
The results of the survey (so far) show that we are likely to gather 21 alumni who will join us with their spouses/guests, totaling about 40 people;
Location - Long Island;
Date - October;
Event type - Dinner.
Details will be provided in due course. It's not too late to inform us of your plans, if you have not already not already done so. Provide your input by clicking on this link.
Likely Attendees, so far (the spouses/guests are not indicated here):
| | |
| --- | --- |
| Abby (Benjamin), Carol | Kenton, Donna |
| Aufhauser, Keith | Krakauer, Gary |
| Chaikin (Bernstein), Kathleen | Kraman (Freedman), Frannie |
| Cohen, Allan | Langlois (Kull), Jeanne |
| Daughety (Hale), Jessica | Litwin (Fingerman), Ellen |
| Daughety (Hale), Jessica | Nadel (Fox), Marilyn |
| Eisner (Pollack), Maxine | Schaffel (Orman), Karen |
| Erdmann (Brody), Linda | Schiller (Fisher), Leslie |
| Gross (Sprague), Susan | Stone (Matho), Elizabeth |
| Holzman (Ingalls), Maida | Weitz, Richard (Rick) |
| Jacobs, Robert A. | |
Art Engoron's latest Newsletter #17 is now available on the Alumni Website: www.wheatleyalumni.org. A report regarding the 6th Annual NYC Luncheon at Cafe Español (pictures below) is one of the intriguing stories recounted by Art.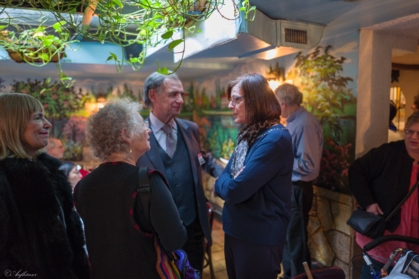 Here are some pictures from the event.
------
Retrospectives on the 60th Reunion of October 15th, 2016.
Above: the whole group.
Above: the '63 group.
Click on either picture (Big Group) or (63 Group) above to improve the resolution and/or to save the picture to your device.
A full report of The Wheatley School 60th Anniversary Celebration can be found on the www.wheatleyalumni.org website.
Recent notable regroupings:
Lebanon Springs NY (chez jeff Ross) and Stockbridge MA (chez Lauren Jacobs Komack) on 2015-08-08: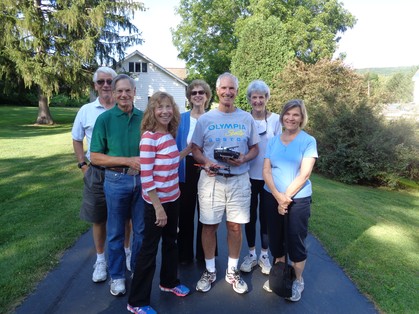 Per Lauren's report:


"Attached is a photo that was taken at Jeff and Karen Ross' farm in Lebanon Springs, NY this past weekend. Karen took the photo. John and Pam Shaffer, Carol and Mel Benjamin, and Donna Kenton visited me at my Stockbridge home. Jeff joined us for a wonderful recital of Brahms trios with Yo Yo Ma, Leonidas Kavalos, and Emmanuel Ax on Thursday and then went (without Jeff) to a Boston Symphony concert, which included the Sibelius violin concerto and Petrouchka. We had a great time."
[Editor's comment: Donna Kenton, participated in BOTH groups; apparently, she speeds from place to place, shod with Hermes' winged sandals.]
2nd, annual, post 50th, NYC Mini-Reunion Luncheon
We gathered on Thursday,at a midtown Italian restaurant (with Albanian waiters) on July 30th, 2015. We were't numerous, but we were jolly. Left to right: Lamitola Downey, Aufhauser, Friedmann Mayer, Engoron, Kenton, Stone Matho.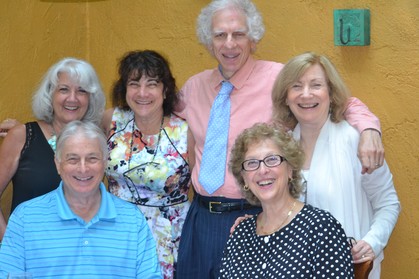 This website is for all of us. Censorship is light.