The Wheatley School
Class Of 1963
Welcome, Wheatley '63 Wildcats, Hipcats and Housecats. Yours is the 15204th visit.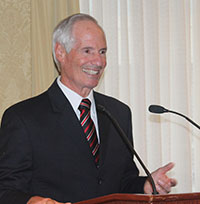 Pathologist Jeffrey Ross, MD, and his wife, Karen, have pledged $1million to the Lifeline campaign, the largest gift ever made to Albany Med by a faculty member. Dr. Ross, the Cyrus Strong Merrill Professor and chair of the Department of Pathology and Laboratory Medicine, said the gift was a "thank you to the institution that allowed me to become the physician, educator and scientist I always wanted to be.
"By joining the faculty at Albany Med, I was able to become a part of a major academic health sciences center," Dr. Ross said. "Albany Med allowed me to transition from serving as a community hospital pathologist to becoming a leader on the campus of a major teaching hospital. I'm so grateful for the opportunity to teach students and residents, oversee an administrative department, care directly for patients and conduct biomedical research—all at the same time!"
Earlier this year, Dr. Ross was recognized for being instrumental in the development of the field of personalized cancer treatment-based genomic analysis. He has received four U.S. patents in cancer biomarkers, and he lectures around the world on cancer genomics and molecular pathology.
The gift coincides with a milestone for Dr. Ross. This year he celebrates 25 years in his chairmanship, making him the longest-sitting pathology chair in the country.
While Albany Med has played a major role in his professional development, it has also been a touchstone for his family. Shortly after Dr. Ross arrived at the hospital in 1989, his father, a retired dentist, began volunteering part-time in the histology lab while his mother volunteered in the thrift shop. His daughter, psychiatrist Mary Ross-Dolen, MD, worked at Albany Med in the early 2000s. His son Merrill Ross, Albany Med's first webmaster, is the current chief executive officer of Affiliated Pathology Services. Son Michael Ross, MD, '97, is a graduate of Albany Medical College and youngest son, David Ross, is a former senior manager in Albany Med'sInformation Services department.
"Several of our children and grandchildren were born here," Dr. Ross said. "It's a remarkable institution that has touched all of us. We hope this gift will create a ripple effect and maybe inspire other employees to consider giving back to a place that has given so much to us."