The Wheatley School
Class Of 1963
Welcome, Wheatley '63 Wildcats, Hipcats and Housecats. Yours is the 28,007th visit.
--------------------
FRIDAY 10/14/2016: Gathering at the Marriott Hotel, Uniondale (where many will be staying). 6 pm - 11 pm.
SATURDAY 10/15/2016: 6

0th Anniversary at The Wheatley School. (Register on

www.wheatleyAlumni.org

).

SUNDAY 10/16/2016: Brunch at Marcia's 11am - 2pm.
Chez Marcia Friedman Mayer Location: Laurel Hollow, at the dead-end of Bungtown Rd, 1.0 mile north of Rt 25A, on the western shore of Cold Spring Harbor.
Directions:
1. Navigate to Cold Spring Harbor Laboratory: at the intersection of Rt 25A (N. Blvd) and Bungtown Rd. (It's 3.8m E of Rt. 106 and 0.2m W of Rt. 108.)
2. Turn north off of 25A onto Bungtown Rd. Drive through Laboratory.
3. Pass dead-end sign and round-about. Keep going.
4. Road turns left for 100 yds (up a slight hill), then right. Stay with it. Pass tiny intersection. You're almost there!
5. After passing huge yellow house on right (home of Dr. James D. Watson), road dips down a sharp bend, forking at bottom. Continue straight/right.
6. Marcia's house is up hill at very end. #1320 is at base of driveway. If you're early, park on top. Otherwise, in neighbor's lot at bottom.
(Here's a list of those who have indicated attendance, so far.)
Leslie Schiller Fisher and Marianne Lamitola Downey ask that you RSVP to them re your attendance at the Friday night gathering at the Marriot Hotel and the Sunday Brunch.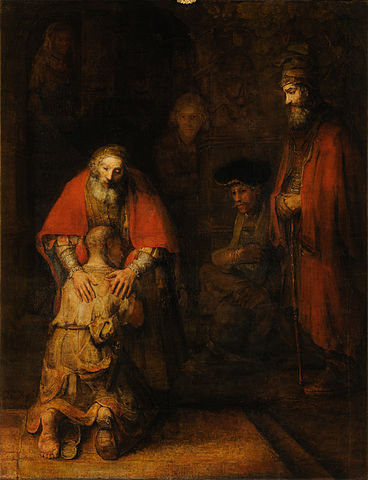 Rembrandt's "Return of the Prodigal Son".Luke 15:32 But it was appropriate to celebrate and be glad, for this, your brother, was dead, and is alive again. He was lost, and is found".
The 60th Anniversary of The Wheatley School will be celebrated on October 14th - 15th,2016 at the school. Register early !
Recent notable regroupings:
Lebanon Springs NY (chez jeff Ross) and Stockbridge MA (chez Lauren Jacobs Komack) on 2015-08-08: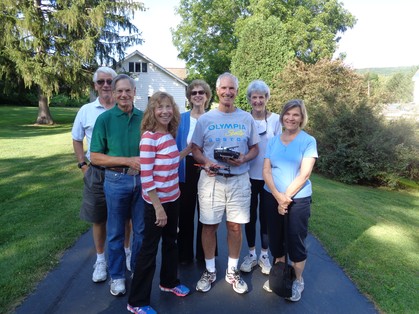 Per Lauren's report:


"Attached is a photo that was taken at Jeff and Karen Ross' farm in Lebanon Springs, NY this past weekend. Karen took the photo. John and Pam Shaffer, Carol and Mel Benjamin, and Donna Kenton visited me at my Stockbridge home. Jeff joined us for a wonderful recital of Brahms trios with Yo Yo Ma, Leonidas Kavalos, and Emmanuel Ax on Thursday and then went (without Jeff) to a Boston Symphony concert, which included the Sibelius violin concerto and Petrouchka. We had a great time."
[Editor's comment: Donna Kenton, participated in BOTH groups; apparently, she speeds from place to place, shod with Hermes' winged sandals.]
2nd, annual, post 50th, NYC Mini-Reunion Luncheon
We gathered on Thursday,at a midtown Italian restaurant (with Albanian waiters) on July 30th, 2015. We were't numerous, but we were jolly. Left to right: Lamitola Downey, Aufhauser, Friedmann Mayer, Engoron, Kenton, Stone Matho.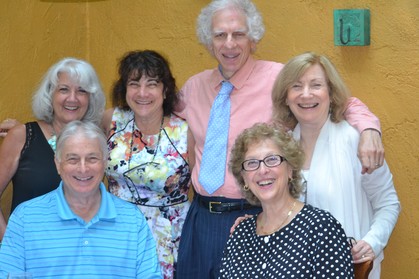 ===
The Wheatley Alumni Association announces:
The Wheatley School is celebrating its 60th Anniversary on October 14, 15, and 16 (Friday through Sunday), 2016, at the school.
Our own class's Reunion Planning Committee views this multi-class celebration as an occasion for organizing some activities for the Class of '63. So, keep that in mind as you build your anticipations about this event.

To read the minutes of the animated discussions up to now, please consult the Planning Committee Minutes on the Wheatley Alumni site. You are invited to lend an opinion, your presence, and a hand.
Art Engoron, Wheatley 1967 646-872-4833

This website is for all of us. Censorship is light.